Many current service members and veterans suffer from chronic pain, post-traumatic stress (PTS), traumatic brain injury (TBI), or a combination of these conditions. The U.S. Department of Defense estimates that 90% of the 60,000 service members injured in Iraq and Afghanistan are living with chronic pain. Nearly half a million military personnel are estimated to suffer from PTS or TBI. In 2010 the Veterans Administration spent $2 billion on treatment for veterans recently diagnosed with these conditions.
PTS and TBI differ from other neurological and psychiatric conditions in that they don't always respond to traditional therapies, including pharmaceuticals. One method that has demonstrated consistent success is military medical acupuncture. Acus-trained physicians use acupuncture as a primary treatment or a complement to conventional surgical, pharmaceutical, or psychiatric approaches to these conditions, which are frequently intertwined with other physical and emotional disorders.
Acupuncture is a low-cost, highly effective treatment with no side effects or risk of addiction.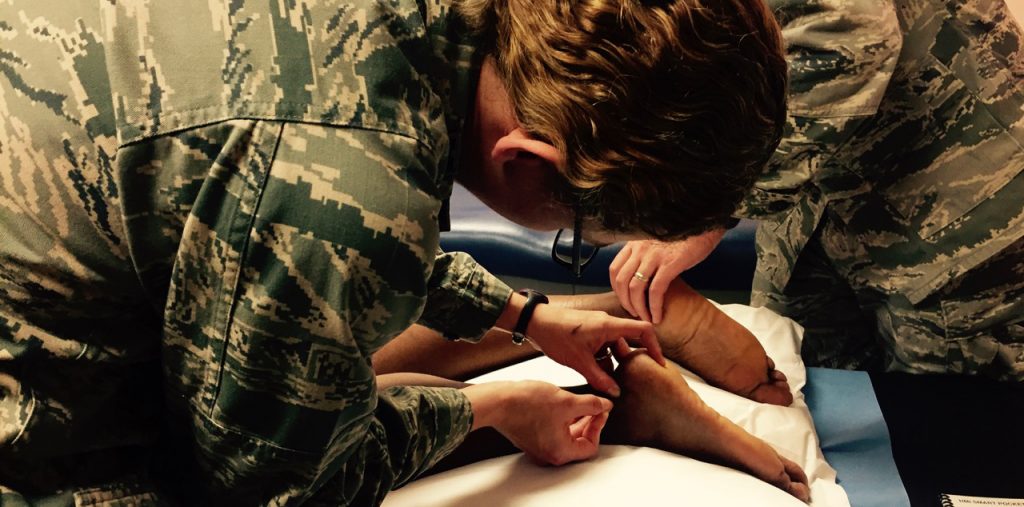 Military acupuncture reduces bad outcomes…
Pain management, chiropractic, and neurosurgery referrals have decreased by approximately 35%.
Medication usage among patients with anxiety disorders, including PTS, has decreased as much as 30%.
Patients who receive acupuncture use 45% fewer opioid prescriptions than those who rely exclusively on traditional Western therapies.
Active-duty service members treated with acupuncture spent fewer hours off duty dealing with debilitating pain and trauma.
…and increases positive results
Patient surveys report consistent and sustained improvement in their physical symptoms and quality of life.
Nellis AFB reported a cost savings of $250,000 in off-base referrals for pain management in the first year (2016) of prioritizing acupuncture as a primary treatment modality.
Despite all these documented and quantifiable benefits, acupuncture has not yet been fully integrated into the military model of care.  Our goal is to make this happen.